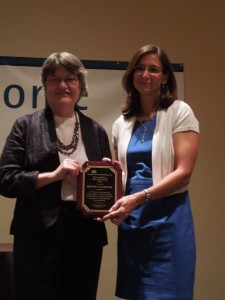 National TSA Education Specialist Kathy Giordano presented Helene with the 2012 TSA Distinguished Educator Award. This award is presented for demonstrating exceptional understanding, excellence of teaching and unparalleled compassion toward the education of students touched by TS.  Helene Walisever is a clinical psychologist, education advocate, and co-chair of the TSA-NY Hudson Valley Chapter's Education Committee along with chapter president Marilyn Trichon. Both have recently been invited to be on National TSA's Education Committee and will travel the country to train educators, professionals, and parents on how to support children with TS and associated disorders in the classroom. She has helped design and delivers the chapter's education programs, including extensive in-service training on TS for education professionals and has provided direct support to parents in their partnerships with schools.  In the past several years alone she has trained thousands of educators, parents and professionals.
As TSA Education Specialist, she is responsible for the chapter's annual outreach to school leaders in the four counties served by the chapter: Westchester, Rockland, Putnam and Orange. In addition to delivering the many of these courses, Helene's leadership, experience and enthusiasm have invigorated an education program, which has brought widespread praise from the local education community and has raised the chapter's profile.  Dr. Walisever has also provided ongoing support for TS families and children.  Drawing upon her expertise in education law, she attends student hearings and participates in the development of IEPs, providing a much-needed level of expertise and advice for parents who are often unfamiliar with their children's rights to a good education. She also personally launched and edits the chapter's Education Bulletin, a thrice-yearly publication that provides parents with essential and reliable information on the effects of Tourette Syndrome on academic, social, and emotional functioning, families' rights under the law, and strategies to promote academic success.
 In her spare time, she has run the NY Marathon for TEAM TSA to secure sponsorships and donations to support the outreach and education efforts of the Tourette Syndrome Association.